Dear friends,
To make the SafeDNS parental control and web filtering service better, more useful, and user-friendly, SafeDNS sent out an email request to fill out a questionnaire last month. We sincerely thank all of the customers who have devoted time to this survey. Now SafeDNS offers you a short recap of all the answers from the questionnaire.  
User Insight
About half of the answers, 50,6%, was provided by SafeDNS subscribers who use the filtering service for less than a year. However, over a third, 35,3% use SafeDNS from 1 to 2 years and 14% – for a more extended period. Almost 2/3 of our current subscribers, 66%, would like to continue using the filtering service at home. A quarter of the surveyed users thinks that they will possibly use SafeDNS in the future.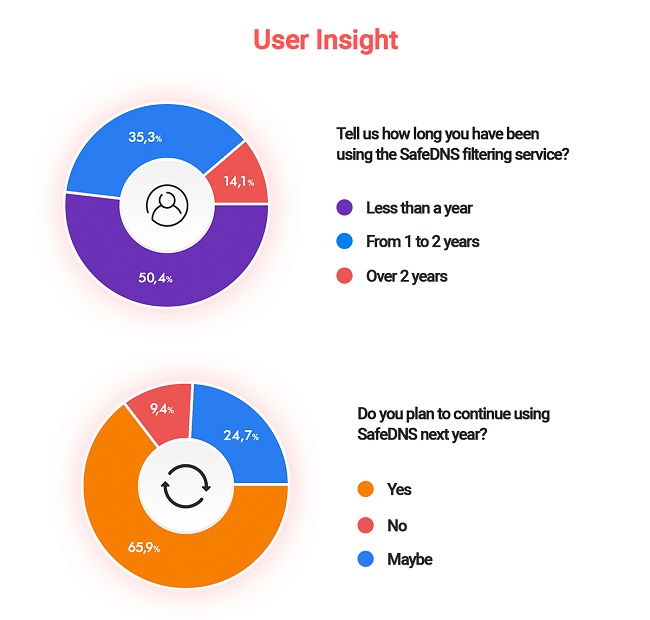 Web filtering or parental control
Nearly half of the respondents, 49,4%, use SafeDNS to protect both themselves and their children. About a third of the polled subscribers use SafeDNS for parental control only – to safeguard kids against inappropriate content online. 18,8% of users need the filtering service to provide internet security to adults only.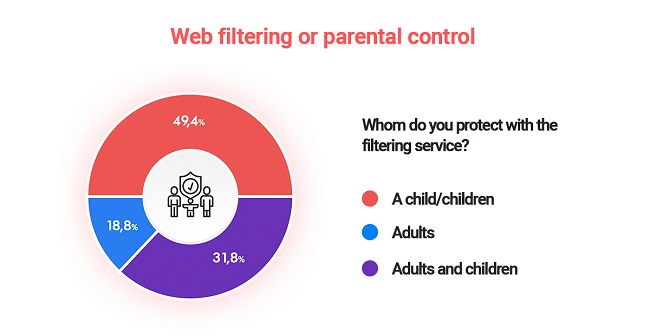 User demographics
As expected, the overwhelming majority of 90,5% of the polled users are male. Perhaps males are generally more into tech than females. As to user age groups, they vary – from the largest group of users of 36-45-year-olds (42,4%) to the 2nd most prominent group of 46-55-year-olds (27%) to the 3rd largest group of over 55-year-olds (17,6%). The smallest group is that of 25-35-year-olds, just 12,9%. 
The parents using SafeDNS are most concerned with what their teenage kids do on the internet. Over a third of these parents, 35,3%, need the filtering service to monitor and control the online activity of their 13-15-year-old kids. The 2nd biggest age group of children (32,9%), whom the parents protect with SafeDNS, is 6-10-year-olds. Then come two equally sized age groups  (30,6% each) – 10-12 and over 15-year-olds. Just a fifth of the parents, 20%, use the filtering to safeguard children younger than 6. The same amount of subscribers have no kids and use SafeDNS for protecting adults only.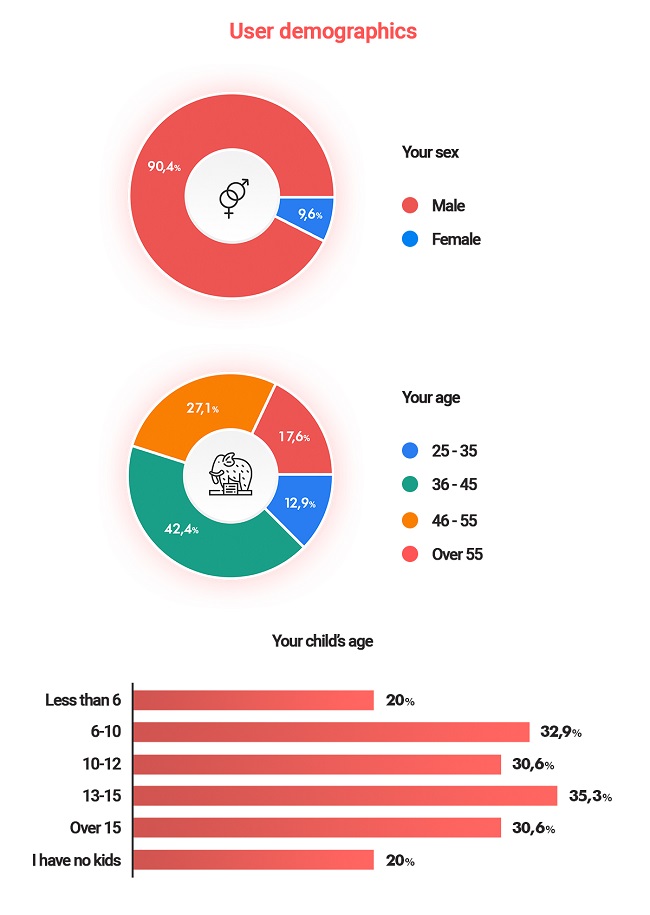 The amount of time a day children spend on the internet.
We've also asked the respondents about the amount of time their kids spend online daily. The answers show that two similarly sized groups say the children usually spend 2-4 hours a day browsing the internet, 28,2% and 1-2 hours a day, 27%. A fifth of the polled users, 20%, set no limit for kids' web surfing at all. 14% say their children are online for less than an hour a day. 10,6% admit kids browse the internet for over 4 hours a day.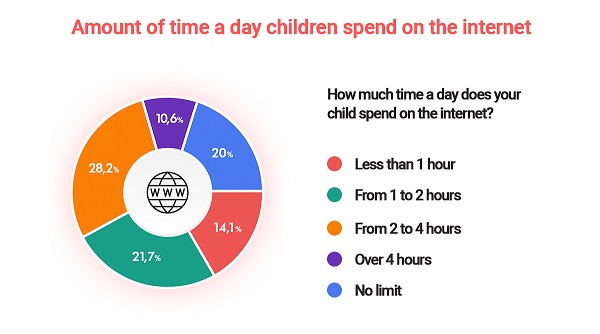 Ways to acquire SafeDNS for home use
The vast majority of the respondents, 90,6%, specifies that they are the ones who have purchased the filtering service. Several users say they have got the SafeDNS solution through giveaways and promotions. 
We appreciate it that more than half of the surveyed users would give a SafeDNS subscription to friends as a gift. We will think out the best possible way so our users could easily give such a nice present to their dear and near ones.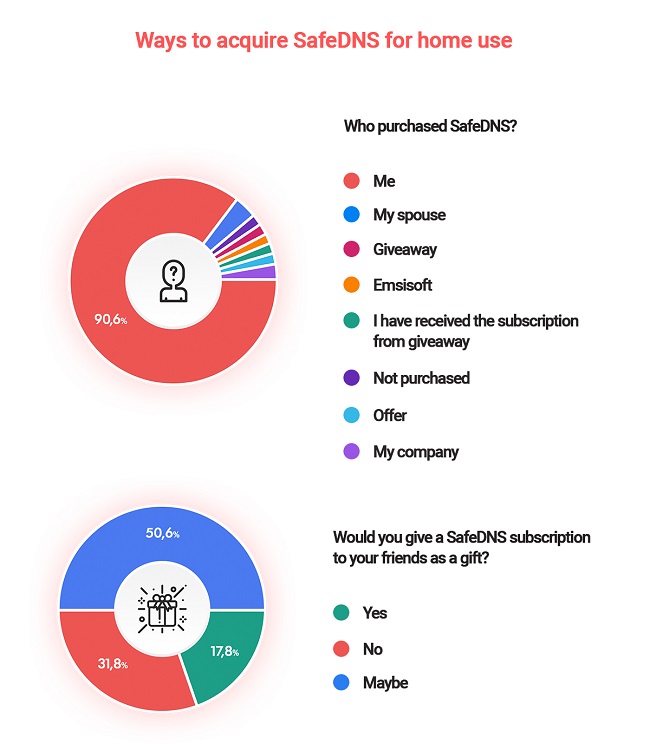 Number of SafeDNS protected devices per user account
Most of the respondents, 42,4%, filter 2 to 5 web-connected devices. A bit more than a quarter of users, 27%, filters 6-10 devices. Another quarter, 24,7%, filters over ten devices. The remaining part of users filters just one device.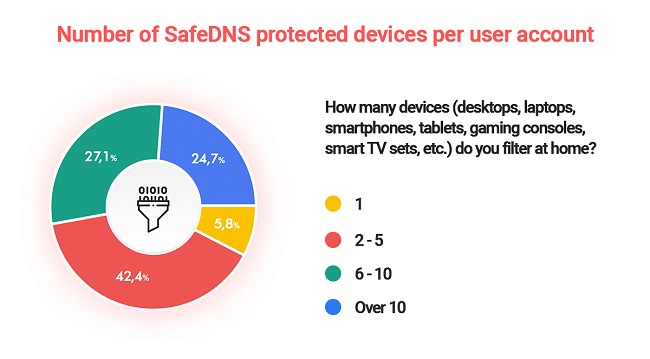 Devices kids browse the internet with
A computer has proved to be the most popular device for web surfing among our users' children, 38,8%. A smartphone is in the 2nd place with 37,6%, a tablet – in the 3rd place with 12,9%. All the other answers score tiny percentage points, which are not representative of the most popular trends.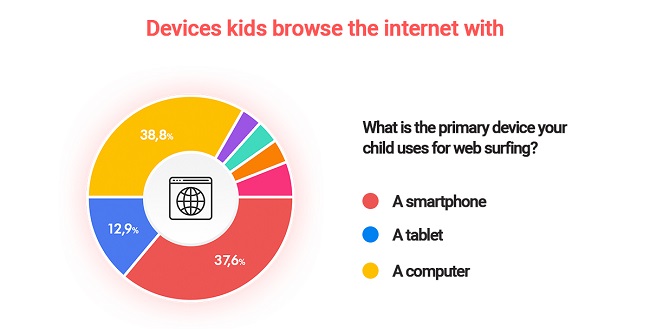 Most popular OS on kids' smartphones
Android is by far the most popular operating system (OS) of our users' kids' smartphones, 58,8%. It's followed by iOS (for Apple devices) with 29,4%. A bit over a tenth of the polled users has no idea about their children's smartphone OS.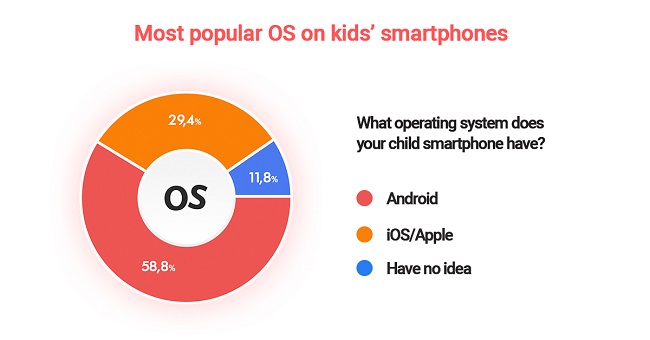 Need for web filtering on kids' devices outside the home network
Well, over half of the respondents, 56,5%, are sure there's a need for web filtering on kids' devices outside the home network. 22,4% of users do not need that; 21,2% admitted there might be such a need.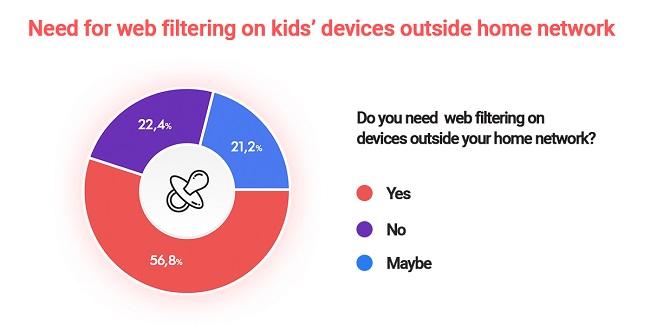 Smart home devices filtering 
It's nice to learn that our tech-savvy subscribers use SafeDNS to protect all kinds of devices, including gaming consoles, smart TV sets, and other smart home devices. Almost a third of the respondents, 32,9%, say they filter the internet on these devices. This is vital as experienced web surfers know many smart home devices are vulnerable to malware and botnets and often have little or no in-built protection against web-based threats.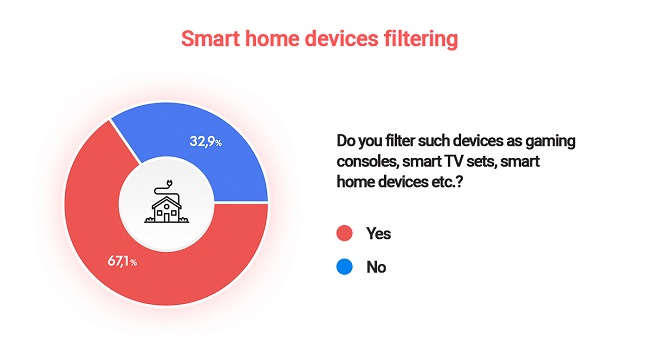 Service Functionality Insight
SafeDNS Agent popularity
47% of the respondents tell us they use our agent software for PCs. 51,8% make do without SafeDNS Agent.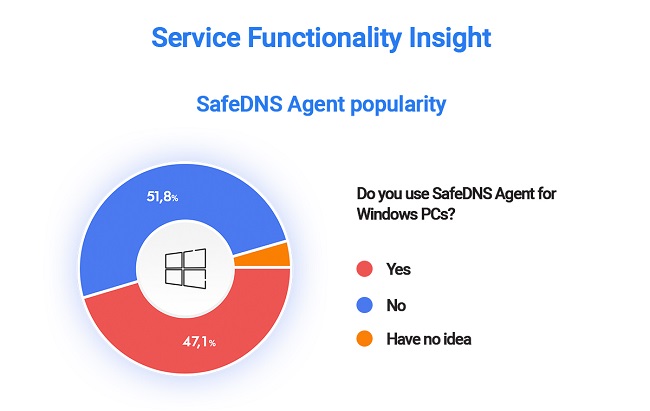 Use of filtering schedule feature
Probably we have not emphasized enough that a filtering schedule feature can be handy for families with kids. Less than a third of the respondents, 30,6%, indicate that they use it. Meanwhile, the filtering schedule helps you to limit or disable the internet at night and for specific periods of the day. It allows your children to remain busy with chores and homework and sleep when they have to, rather than flipping through their Instagram or playing online games.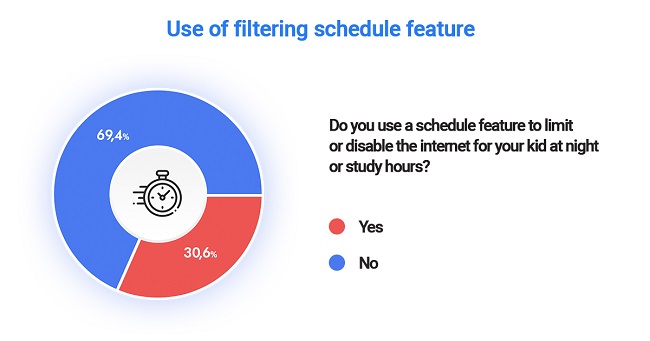 Customer satisfaction with the number of filtering policies on Safe@Home Plan
This questionnaire results confirm three filtering policies on Safe@Home Plan are enough for most of the respondents, 78,8%. The rest 21,2% think otherwise.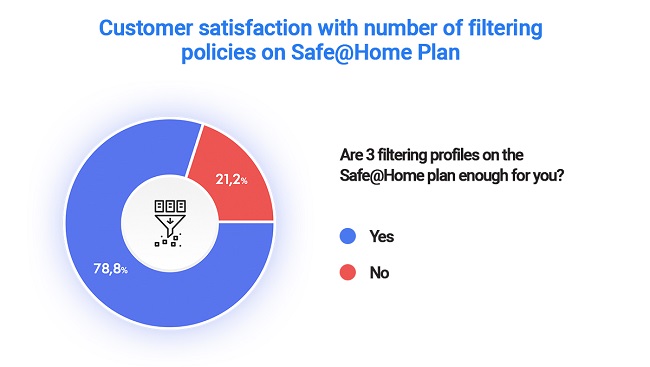 Customer satisfaction with the number of sites in black and white lists
The overwhelming majority of 67,1% are content with the number of sites in their lists of exceptions from filtering rules (black and white lists). 32,9% think this amount is not enough.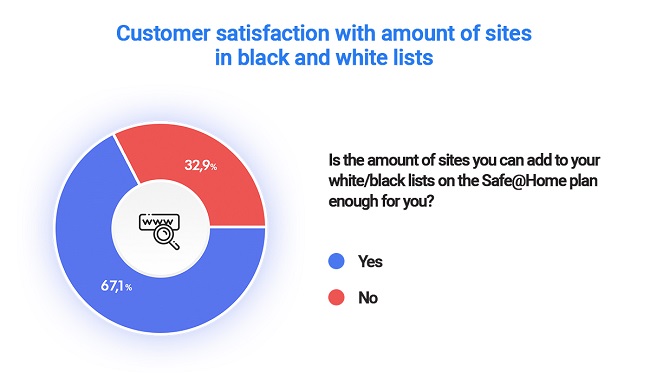 Standard or personalized block page
A massive 80% of the polled users are happy with the standard service block page. A fifth of the respondents uses a personalized block page.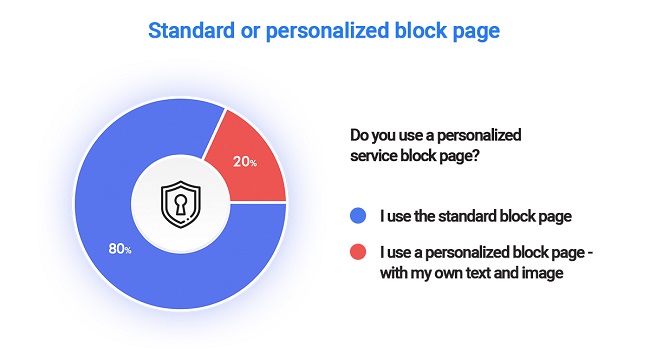 The regularity of service stats check
It was somewhat surprising that 40% of the surveyed subscribers check filtering service stats just once a month. A fifth of the respondents do it weekly. 10,6% – daily, and almost a third does not check the stats at all. If you do not do it, you can't see how the filtering contributes to your cybersecurity, what sites your kids access, and if they try to reach the blocked content. We recommend checking the filtering stats to make sure the SafeDNS service provides you the best possible protection.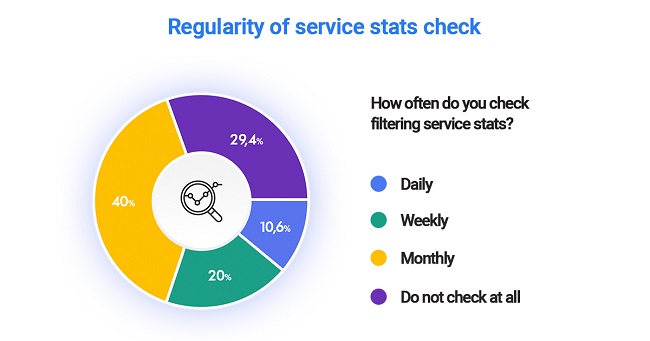 User ideas on improving SafeDNS
Several SafeDNS home users give ideas on the filtering features they would like to have. One of them suggested decreasing the number of the networks protected on Safe@Home Plan, from 3 to just 1, increasing the amount of the filtering policies – from 3 to 4. Another user wants to have a total block of sites and games from a Chromebook. There's also a request for a bypass feature. It is in the works. SafeDNS will release the bypass feature as soon as it is ready. 
From the survey results, we can safely say the company's customers are generally content with the service and are going to entrust us with their cybersecurity further. The company highly appreciates every user's feedback and plans to ask you for your opinion more often. 
Your SafeDNS Team