Safe WiFi at Public Venues
As the person in charge of WiFi at a large public venue, you certainly have enough to take care of, besides making your WiFi safer and cleaner
If there's a way to easily get WiFi security off your to-do list now without investing in additional hardware and software, would you finally feel confident to deploy a solution making your wireless network safe and friendly to any audience?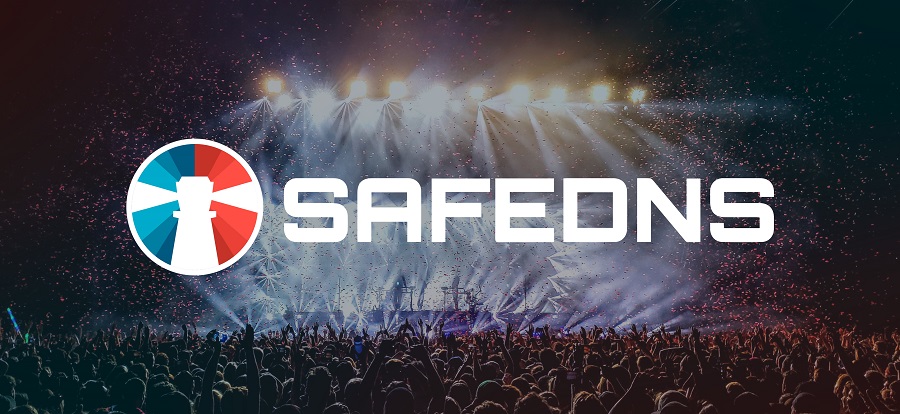 To reach this goal, SafeDNS provides WiFi pros with a DNS-based cloud service for web content filtering and internet security at large public venues.
The tried and tested service delivers a granular multi-policy filtering to accommodate the needs of any large public venue, attended by hundreds and thousands of people of different ages, interests and convictions. With SafeDNS, you can easily block any content you do not need on your WiFi – malicious and phishing sites, gross, explicit and inappropriate stuff on the internet.
Why Choose SafeDNS
Simple deployment and implementation

With no additional hardware and software, the SafeDNS cloud service can be deployed in a couple of hours across the entire WiFi network, no matter how many access points you have

---

High scalability

There is no limit on the number of access points and their locations. The company's filtering servers, located all over the world, are connected by BGP Anycast protocol in a failover network. It is designed to process queries from millions of users in a 24/7 mode, so that you can get the filtering service without interruptions

---

Fast DNS resolving

The filtering adds no latency to WiFi connection. The company's distributed server network resolves DNS queries fast. Globally SafeDNS is among the top of the world's fastest DNS filtering services

---

Proactive protection

With SafeDNS, your wireless network users will come to no harm, whether they intentionally try to reach dangerous sites or do it unwittingly as the filtering service blocks access to unwanted content before it is loaded in the web browser

---

Reliable HTTPS site blocking

DNS-layer filtering blocks HTTP and HTTPS sites equally well, which is vital now, when the number of the HTTPS sites surpasses 70% of all the existing sites and grows by the day

---

Cyber threat protection

With SafeDNS you will improve WiFi security by filtering out malware propagating, phishing and cryptojacking sites. SafeDNS blocks attempts to reach malicious and phishing resources. With the company's own botnet and malware detection module, SafeDNS categorizes malware infected and propagating sites into security-related filtering categories.

A proof of the top-notch filtering quality is a review by 3rd-party testers in Australia. In it, SafeDNS is cited among the best threat-blocking DNS providers and is especially good at blocking malicious sites, doing a much better job of filtering the internet than most of its competitors
SafeDNS Features You Get
The company's feature-rich web filtering service successfully meets the WiFi pros' demand.
Category-based filtering

You can adapt the SafeDNS service to any event audience and its requirements, whether these are families with kids, under-age and adult concert goers, faith-based groups or grownups with professional interests exclusively. The filtering granularity is achieved when you choose between 60 content categories which to block or allow. You decide how many filtering policies there will be in each location and what filtering settings will be applied to any policy.

With 105M sites, divided into such categories as pornography, gambling, news, entertainment, sports, social networks, etc. in the SafeDNS web categorization database, you have plentiful opportunities to personalize the filtering service

---

Precise web categorization


You are not going to face under-/overblocking issues as the company's website database is exceptionally precise. SafeDNS uses AI and machine learning to automatically categorize sites and add them to the dynamically updated database. According to 4 years of testing by AV-Comparatives, a world-known test lab, SafeDNS has had no false positives for all these 4 years 

---

Exceptions from filtering rules

White and black lists, available per filtering policy, deliver customers more flexibility in managing SafeDNS. In the lists you can add sites to be excluded from any filtering rules.

Whitelisting sites allows you to make them always accessible whatever category they belong to. Blacklisting works the other way round. It makes specific sites always inaccessible for your WiFi users 

---

Customizable block page

Personalize the service block page to let your venue attendees know why this or that site is blocked. To tailor the page to any audience's needs, you can create an individual block page per each filtering policy. Whether you welcome families with kids or adult visitors for an event, for any of the visitors the service block page will look exactly as you see fit 

---

Enhanced filtering of adult and child sexual abuse content

To help customers easily block these most heinous images and videos, SafeDNS has 2 filtering categories, fully dedicated to child sexual abuse material. One of these 2 categories contains illegal resources from the IWF Child Abuse Image Content List, which SafeDNS receives as IWF Member. The other category contains resources from a list compiled by the Canadian Centre for Child Protection, as part of its Project Arachnid

---

Regulation compliance

To comply with the regulation you may well be required to filter out child sexual abuse content which is possible with SafeDNS. Pornography should be not tolerated on the wireless networks of the venues where and when children are present. The filtering service does a great job of blocking porn and adult only material. For 4 consecutive years SafeDNS has been acknowledged Approved Parental Control Product by AV-Comparatives. In the 2018 tests SafeDNS blocked near-perfect 98,3% of adult content 

---

Ad blocking

Rid your WiFi from most of web ads, by banning a 'Banner ads' filtering category. The ads sometimes contain inappropriate images and can be used for malware propagation 

---

Detailed WiFi usage stats

Learn your audiences better, by checking the filtering service statistics. We provide customers with detailed stats and reports. They show what websites your WiFi users have browsed. It helps you to understand what your audiences are most interested in, so you can target your advertising more precise 

---

Online service management

Centralize the service management of all your APs and locations via a web-based service dashboard. In it, customers can manage the SafeDNS filtering 24/7 from anywhere on the internet – create filtering policies and service admins, set internet access rules for these policies and fine tune them.

SafeDNS Dashboard is optimized for an easy and fast management of thousands of access points on a WiFi network. Individual access to the dashboard can be created for every system administrator of your WiFi network, so you will never lose access to the filtering service management 

---

Unblocking service

SafeDNS provides an unblocking system. If users find a website inappropriately categorized they can request to re-categorize it. SafeDNS Team will look through the content of the website and consider re-categorization. Usually, the process takes no more than 30 minutes 

---

WiFi certification discount

You can certify wireless networks as safe and family-friendly by Friendly WiFi, a popular safety certification standard for public WiFi.

As Friendly WiFi Approved Partner, SafeDNS can provide public WiFi owners and providers with a nice discount for Friendly WiFi certification. Visit the dedicated site page to learn how you benefit by getting your WiFi certified
How You Benefit With SafeDNS
You improve internet security of all attendees and the entire WiFi network



You can protect the wireless networks and its users at your venue with no CAPEX whatsoever



You can attract new audiences to the venue, by adapting your WiFi access to their needs



You actively carry out the social responsibility policy, by providing a cleaner and safer WiFi




You get more insight into the audiences
Case Studies
Cloud Content Filtering Service Providing Regulation Compliance for Large Public WiFi Project in Colombia
Your Contacts
Learn More
How to efficiently protect public WiFi hotspots
and increase WiFi provider's revenue
with the best-of-breed web filtering service