Safe Internet for Education and Libraries
Have you ever noticed that students spend more time on entertainment sites with content irrelevant to their studies, than surfing the Internet for educational purposes?
We offer special internet filter for schools, universities, colleges and libraries. It helps to control students' internet access, provides safe online study, protects from botnets, malware and phishing websites. SafeDNS meets CIPA compliance and protects all network users including students, guests, teachers and other staff.
FREE Trial for 15 Days. No credit card required and we don't spam.
A Simple and Affordable Solution
SafeDNS is a cloud solution working as an online service. It blocks dangerous site before you access its' malware payload. The service can easily be deployed across the entire network in a matter of minutes.
In the majority of cases, there is no need to install any software or hardware on network or on students' computers and mobile devices. All you need is to set the parameters on the networks' internet gateway and choose the categories you wish to block through the web dashboard. SafeDNS has a rich database, covering more than 90 million domains (and billions of web pages) divided into 55+ categories.
The service is even affordable for K-12 schools with a limited annual IT budget.
K-12 Schools Protection
The internet is an integral part of the educational process. With that said, unguided internet access can lead to students reaching sites with harmful content. SafeDNS ensures CIPA (Children's Internet Protection Act) compliance necessary for E-rate funding. We protect all the devices in the school's network from dangerous and harmful content. If you use 1:1 programs, tablets and mobile devices, your IT staff is able to protect all devices with a web filtering system, including the school's computers used outside campus.
Suitable for Higher Education
SafeDNS filtering solution allows universities and colleges to provide their students with safe and open internet through our protection that prevents botnet threats and malware infections. Our service does not require additional hardware. It is very important for universities with large bandwidth connections provided with network backbones. 
We constantly improve the functionality of our filtering system and add new functions which are immediately available for you at no extra charge.
Perfect for Libraries
SafeDNS provides security for library's Wi-Fi network and stationary computers so users can not access harmful or unsuitable websites. You can apply different filtering settings on the library's computers for adults, teens and kids. Users' mobile devices and laptops accessing Wi-Fi network in the library will also be protected. SafeDNS can be deployed throughout all your libraries in less than a couple of hours.

Enhanced Filtering of Adult and Child Sexual Abuse Images
SafeDNS is a Member of the Internet Watch Foundation (IWF), a leading organisation for reporting and removing online child sexual abuse images and videos. Together we're making the internet a safer place. Read more or report a website here: www.iwf.org.uk. Do the right thing. 
Being IWF Member, SafeDNS includes in its web filtering systems and blocks URLs of indecent images of children and abuse domains from Child Abuse Images and content list (CAIC) compiled by IWF.
SafeDNS is also Friendly WiFi Approved Provider which means our content filtering solutions are recommended for public WiFi owners and providers seeking to ensure safe web connection for their users. 
FREE Trial for 15 Days. No credit card required and we don't spam.
 
Case Studies
Request for Inquiry
Learn More
How to ensure internet safety for educational institutions & libraries. White paper (in English and Spanish)
In English
En español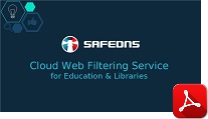 How to make the web safer for educational institutions & libraries. Presentation