Safe Internet for Business
Have you ever considered how much time your employees waste on irrelevant internet surfing and how many threats there are on the internet?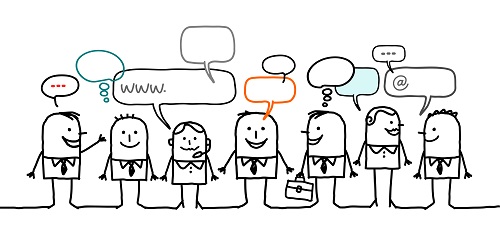 We offer a special internet filter for system administrators and business users. It helps to control employees' internet access, provides safe surfing, protects against phishing and virus laden web sites, while giving many more valuable features.
FREE Trial for 15 Days. No credit card required and we don't spam.
Safe@Office Controls Entire Corporate Network
The content filter can protect all the branches of your company through the common settings or with individual settings for every office. Different rules of access can be created with filtering profiles.
Dynamic DNS Service Support
You can work with our filtering system regardless of which IP addresses are given by your provider. Safe@Office supports both static and dynamic IP addresses. Moreover, it maintains binding addresses through third-party dynamic DNS services and native system commands.
Huge Database
SafeDNS has a rich database covering more than 105 million domains (and billions of web pages) divided into 55+ categories. You can easily choose categories that you want to block.
Whitelist and Blacklist
Safe@Office enables you to quickly and easily customize filtering for network's specific needs. Categories for your whitelist and blacklist can easily be chosen.
The whitelist allows you to make particular sites always accessible even if the category they belong to is blocked. The black lists operate in an opposite way by making websites never accessible.
Branded Custom Block Page
The system administrator can customize the block page by putting contacts, logos etc. Therefore, all network users can know whom to contact in case of block. In advanced mode, you can fully change the HTML code of the block page (HTML-mode).
Whitelist-Only Mode
It is best suited for networks where internet access should be restricted to specific domains only. The users get access to permitted web sites from the whitelist.
Enhanced Filtering of Adult and Child Sexual Abuse Images 
SafeDNS is a Member of the Internet Watch Foundation (IWF), a leading organization for reporting and removing online child sexual abuse images and videos. Together we're making the internet a safer place. Read more or report a website here: www.iwf.org.uk. Do the right thing. 
SafeDNS is also Friendly WiFi Approved Partner which means the company closely cooperates with Friendly WiFi, a popular self-certification scheme for public Wi-Fi providers. 
With SafeDNS public WiFi owners and providers can get Friendly WiFi certification with a nice discount. Visit the dedicated site page to learn how you benefit by getting your Wi-Fi certified. 
| | |
| --- | --- |
| | |
| Being IWF Member, SafeDNS includes in its web filtering systems and blocks URLs of indecent images of children and abuse domains from Child Abuse Images and content list (CAIC) compiled by IWF.  | The SafeDNS web content filtering service is recommended by Friendly WiFi to public Wi-Fi owners and providers seeking a solution to ensure safe and family-friendly web connection for their users.  |
More Opportunities
We constantly improve the functionality of our filtering system and add new functions which are immediately made available for you at no extra charge.
FREE Trial for 15 Days. No credit card required and we don't spam.
Variety of Service Plans
SafeDNS offers different service plans for companies of different sizes. The price of the service plan depends on the number of devices you are going to protect.
You can purchase online Office plans for 5, 10, 25, 50, 75 or 100 devices in your office. If you need licenses for more than 100 devices please contact our Sales. 
For corporations we offer Safe@Enterprise plan with almost unlimited features. For more information about our service plans and plans' options visit the Plans&Pricing page.
Request for Inquiry
Learn More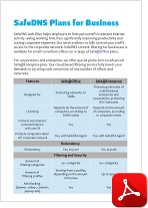 To better understand the difference between Safe@Office and Safe@Enterprise 
download the comparison of these plans