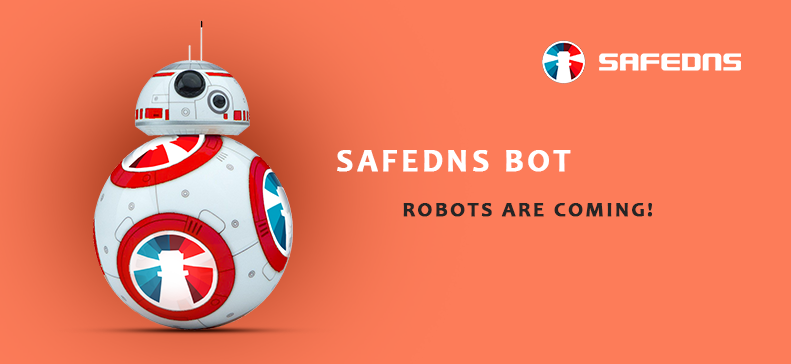 Hi, Guys!
We have a Christmas surprise for our customers! 
Robots become a significant part of human lives. They are essential for automation and tech development, they do our work, produce things that we can't make, turn into our digital friends and domestic helpers. No doubt they will affect all spheres of human activities in the nearest future.
Robot's mission 
Three laws of robotics devised by Isaac Asimov are more than just science fiction imaginaries. It is a global idea that should become a basis of robotics and programming at all its levels. Robots must be aimed to keep humans and humanity safe, protect them against physical and digital threats.
But, stop! Why are we talking about robots?
Because we have just created SafeDNS Bot! Our new chatbot is designed with Asimov's fundamental rules in the mind. SafeDNS Bot will help people and give them protection against online threats.
We've created SafeDNS Bot for those, who like to use messengers! It is a smart digital creature living in your chats and constantly does all the best to keep you safe! 
The smart bot is needed for checking how safe links in messengers are. It can detect vulnerable links to Malware, Phishing and Botnets-related sites in real time right in your chat. It can be useful for group and corporate chats. If you assign our Bot as an administrator, it will automatically delete all messages that contain malware or phishing links! If the link is secure SafeDNS Bot remains silent.
And even more! SafeDNS Bot is absolutely free for all human beings! 
Try it right now! Guarantee safety in your chat!
SafeDNS Bot is available for Telegram. The Bot for Slack is coming soon. And we are also working on a chatbot for other platforms.
Your SafeDNS Team