Dear friends, 
SafeDNS is proud to be part of one of the most important events for the Wi-Fi industry, Wi-Fi NOW 2017. In Europe event attendees will be able to visit a conference and exhibition focusing on the latest industry trends which this year take place in the Hague on October 31-November 2. 
At Wi-Fi NOW EU expo stand #18 SafeDNS is going to showcase its content filtering and network security solutions. The company has for several years been providing customers and Wi-Fi industry actors with products and services to secure wireless networks. SafeDNS protection for end users of public Wi-Fi networks against unwanted online content, botnets, malicious and phishing resources is one of the most popular company's products. Now we have got a lot to show for the years of work with the industry actors. 
For Wi-Fi routers manufacturers selling to SOHO, SME and home users SafeDNS provides a solution with an unrivaled set of features for web filtering, internet usage monitoring, web access management, and cyber threats protection. This summer SafeDNS released an open-source filtering module for routers with OpenWRT firmware. The module is easily adapted for other router firmwares. With it Wi-Fi routers vendors can fully integrate the SafeDNS filtering service into their products adding them much value.
The company's filtering technology is already integrated into Wi-Fi routers manufactured in different parts of the world. Fältcom (Sweden) and ZYXEL (Taiwan) were the first ones to fully integrate SafeDNS into Wi-Fi routers for transportation systems, SOHO and home users. These Wi-Fi equipment vendors successfully sell their products in EMEA and get additional recurring revenue with SafeDNS. 
This year we've secured technological partnership with another Swedish supplier of Wi-Fi routers, Dovado, and a branch of a world-known network hardware vendor, D-Link. Our Wi-Fi NOW EU participation will help the company to further expand collaboration with Wi-Fi routers manufacturers. 
We'll also tell our stand visitors about SafeDNS partnership programs allowing Wi-Fi providers to profit from selling SafeDNS web filtering and cyber security solutions. Making the internet safer with SafeDNS does not only add to Wi-Fi providers' bottom line but drives their users' loyalty and helps to attract new ones. 
If you plan to attend Wi-Fi NOW Europe 2017, stop by our stand #18 to get information on how you can benefit from our products and services. Get your tickets now – you are most welcome!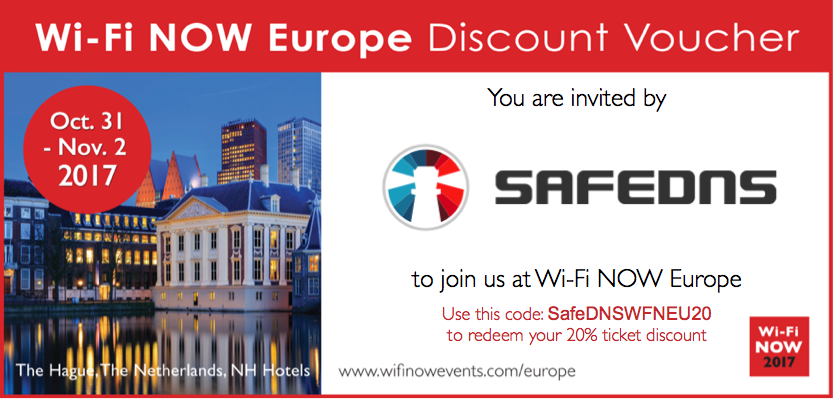 About Wi-Fi NOW events 
At Wi-Fi NOW events you will meet industry leaders, entrepreneurs, innovators, and experts from across the global Wi-Fi industry. We showcase the most promising companies and inspiring case stories driving the Wi-Fi industry forward. We bring the industry together for three days of networking and knowledge sharing – and we're the only 100% Wi-Fi event in the world.

Your SafeDNS Team