Dear friends, 
SafeDNS is honored to take part in Wi-Fi NOW APAC 2017, the Asian leg of the most important series of events for the Wi-Fi industry. To this event in Bangkok on November 28-30 organizers welcome exhibitors and attendees from the huge Asia Pacific region and other parts of the world. At the conference part of the event our speaker is going to present the company and its solutions to the audience. 
On the Wi-Fi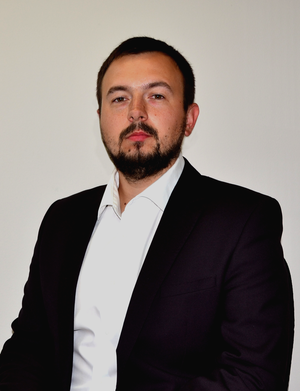 NOW APAC 1st day SafeDNS Business Development Executive, George Deen will speak about what is wrong with Wi-Fi security. SafeDNS has developed technology to increase cyber security of Wi-Fi users. You can actually do it without investing a huge amount of time and money into developing your own solutions to improve Wi-Fi users' web security. Come to the SafeDNS presentation scheduled at 2:00pm and get answers to your questions. 
At our expo stand we'll showcase SafeDNS content filtering and network security solutions for Wi-Fi industry actors. These solutions are popular with company's customers and partners and we will show Wi-Fi NOW APAC attendees the value these solutions can bring. 
As many network hardware manufacturers are headquartered in Asia we expect to meet lots of Wi-Fi equipment vendors at the event and will present them a SafeDNS integration-ready solution allowing manufacturers to add to their hardware a set of useful features and options for web content filtering, internet usage monitoring, internet policy compliance and web access management. They provide opportunities which are in demand with SOHO and enterprise level users. The SafeDNS technology also improves protection of Wi-Fi equipment users against emerging internet threats.  
The SafeDNS solutions are great at bringing our partners additional recurring revenue. The company has a number of partnership programs with a flexible and affordable licensing allowing MSP, system integrators and software distributors to expand their range of products and services or include the SafeDNS solutions into service packages. 
If you are in Thailand at the end of this month we'll be delighted to meet you at Wi-Fi NOW APAC 2017. Stop by the SafeDNS stand at Watergate Ballroom of Amari Watergate Bangkok to have a chat with our representatives. Get your tickets with a 20% discount – use this promocode.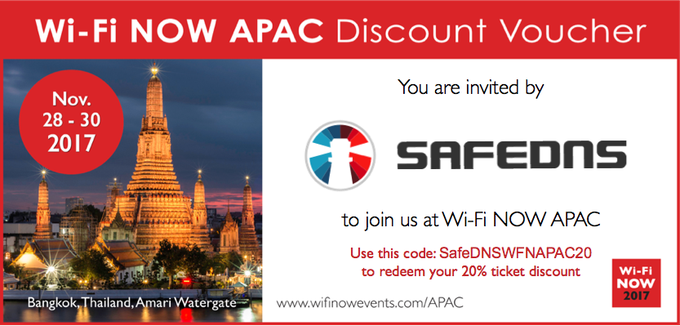 About Wi-Fi NOW events 
At Wi-Fi NOW events you will meet industry leaders, entrepreneurs, innovators, and experts from across the global Wi-Fi industry. We showcase the most promising companies and inspiring case stories driving the Wi-Fi industry forward. We bring the industry together for three days of networking and knowledge sharing – and we're the only 100% Wi-Fi event in the world.

Your SafeDNS Team