Dear friends, 
SafeDNS is happy to participate in 4YFN (Four Years From Now) 2018. The international event in Barcelona, Spain is dedicated to startups that look into the future and innovate. 4YFN attracts hundreds of exhibitors and tens of thousands of visitors as it is part of MWC, the largest mobile industry event. 
On February 26-28 at our exhibition stand C2.5 SafeDNS will showcase its innovative solutions to 4YFN attendees. The company's already publicized its vision of a new internet security paradigm for network equipment manufacturers. And SafeDNS will promote it again at the Barcelona event. Cause we strongly believe that our technology to be integrated into network equipment makes it significantly safer for end users. SafeDNS enables manufacturers to bring security of their network hardware on-par with the modern-day web threat environment. Based on the SafeDNS best-in-class content filtering service our solution provides equipment users with a granular filtering for every device on a network, support for filtering HTTP and HTTPS sites, protection against botnets, malicious and phishing resources. 
Besides, we'll demonstrate how the SafeDNS cloud service can meet user demand for high-quality per-device content filtering at home, work and places of learning. Depending on customer's needs SafeDNS offers a huge number of opportunities to introduce parental control, enforce internet usage policies, cut financial and reputational losses, drive revenue, detect, remediate and even predict threats and much more. 
SafeDNS works equally well for small and huge networks, with tens of thousands of individual internet users. Our technology makes it possible to improve cyber security country-wide. We efficiently block dangerous and unwanted resources before our users get access to them – to make the internet safer at any level, even a national one. 
If you are in Barcelona at the end of this month we'll be delighted to meet you at 4YFN 2018. It takes place in Fira Montjuïc Venue. Stop by the SafeDNS stand C2.5 in Hall 8 of the venue. 
Feel free to set up a meeting with our representative at 4YFN via email or his LinkedIn page.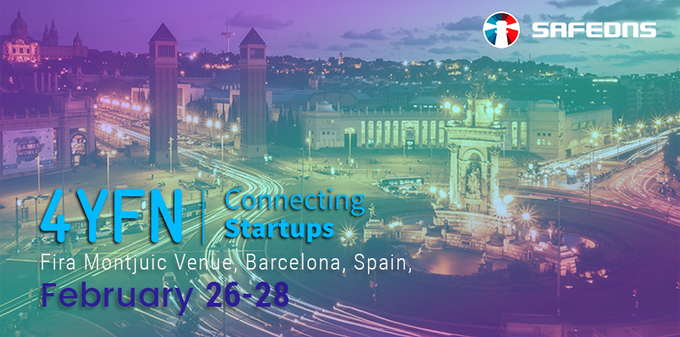 About the event

4YFN (Four Years From Now) is a business event where startups, investors, corporations and public institutions can discover, create and launch new ventures together. 
As the startup event of the largest gathering for the mobile industry (MWC), 4YFN has been classed as 'the No.1 startup event for doing business' and with a large array of activities provided for all of those attending.
Your SafeDNS Team