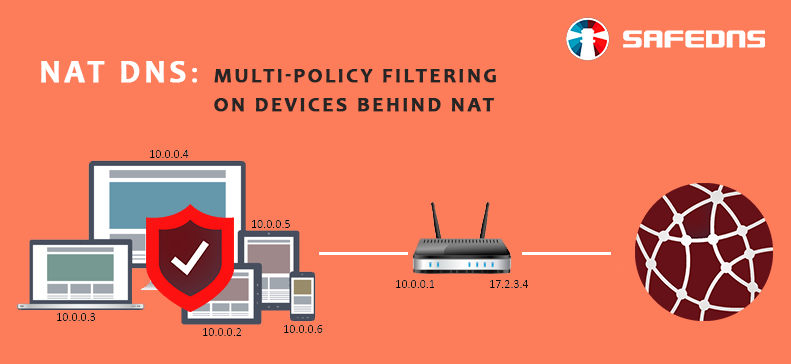 Dear friends,
We have great news for SafeDNS users! Today we have added a new feature, NAT DNS. Our corporate customers have long expected it. And now it is possible to set up multi-policy filtering on different networking devices (routers or gateways) behind NAT (Network Address Translation). The NAT DNS option is developed for those, who can't use recently released SafeDNS multi-policy filtering technology for OpenWRT routers. 
NAT is a network technology that is widely used in corporate and guest WiFi networks to decrease the amount of IP addresses, secure local hosts and hide the entire internal network's structure from remote viewers. 
Previously SafeDNS did not support multi-policy filtering for devices behind NAT. Whole networks behind NAT were filtered by the same rules. But our developers team has solved this issue.
Now you can assign up to 5 filtering profiles for 5 different network devices with internal private IPs behind NAT. The NAT DNS option is available for SafeDNS@Business, SafeDNS@Enterprise, SafeDNS@Hotspot Edition plans. The option is also adapted for our ISP's solutions. 
Learn how to set up multi-policy filtering on network devices behind NAT in this guide. Hope, you'll enjoy the new feature!
Your SafeDNS team