Dear friends, 
SafeDNS has added to its categorization database and your service dashboard one more category. It is called German Youth Protection and contains sites considered unsafe by Federal Department for media harmful to young persons (BPjM), Germany. The term "harmful media" implies content: 
harmful "to the development of children or young people or to their education as autonomous and socially-compatible individuals". Media that are "immoral, brutalizing, or which provoke violence, crime or racial hatred" are named as examples of this
which is proscribed by the criminal (incitement to hate or violence against a group of people), instructions on how to commit crime, glorification or trivialization of violence, incitement to racial hatred and pornography
which glorifies war
which depicts minors in an unnatural/harmful situation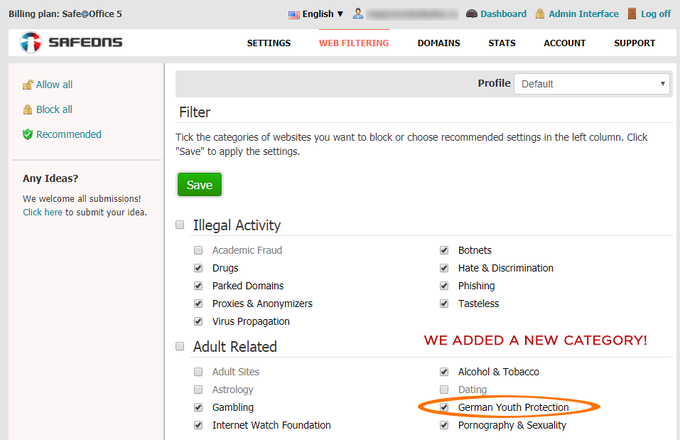 Websites from the German Youth Protection category will be filtered out by SafeDNS in case this category is marked for blocking by our users. 
The measure further improves the ability of the SafeDNS content filtering service to protect children against gross stuff on the internet. The addition of the German Youth Protection category is a logical step for the company. In spring 2016 SafeDNS started to block resources from Child Abuse Images and content list (CAIC) compiled by Internet Watch Foundation (IWF), UK. The list contains URLs of indecent images of children and abuse domains. Blocking such sites is imperative on public Wi-Fi networks, ones of educational institutions etc. Responsible parents will also find the new addition important to reliably safeguard kids from harmful and illegal content. 
Your SafeDNS Team