7.1. How to add a filtering profile
7.2. How to change the name of the profile settings
7.3. How to copy profile settings
7.4. How to change profile settings for the selected static or dynamic IP address
7.5. How to make different filters for different users of the same computer
7.1. How to add a filtering profile
A filtering profile is a set of filtering options with an assigned name. It is necessary if you have different filtering policies for different network users (or groups of users). Also, profiles are used when you are setting a filtering schedule. The Default profile cannot be deleted or renamed and you cannot set any filtering schedule for it. Additional profiles can be created in the Settings -> Profiles tab in Dashboard.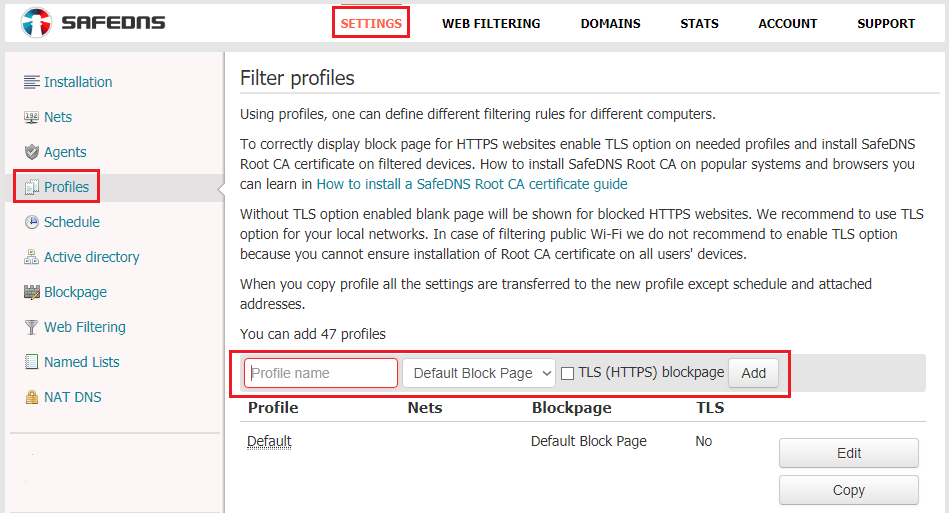 7.2. How to change the name of the profile settings
Change the name of the profile settings in Settings -> Profiles. Next to any existing profile click Edit. After editing click Save.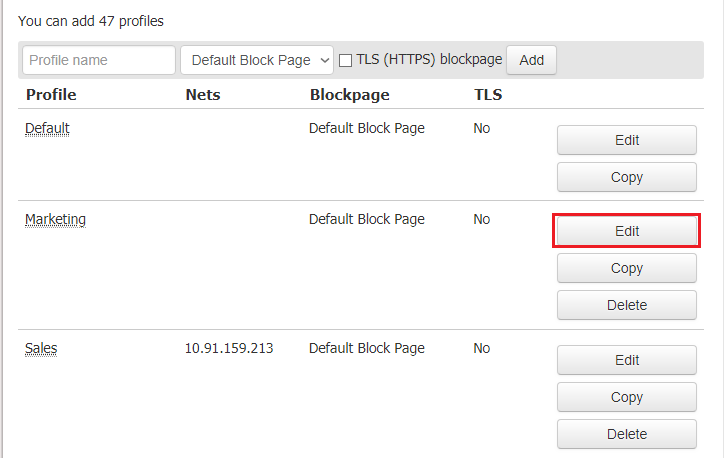 7.3. How to copy profile settings
Profile copying will be important in situations when there's an extensive white- or blacklist created for a particular profile. To save you time, you can copy the profile instead of manually adding the necessary sites to white- or blacklists of a new profile. Remember, only the existing profile's filtering settings are copied (Web filtering and Domains sections). To copy the settings of the profile, go to Profiles and click Copy.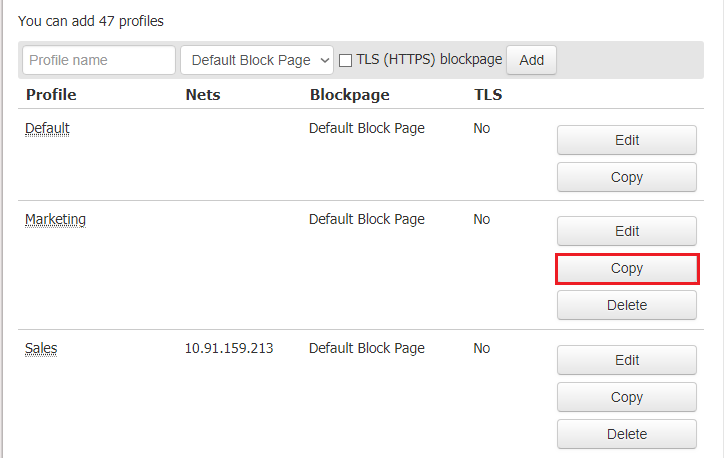 7.4. How to change profile settings for the selected static or dynamic IP address
Go to Settings -> Nets (section on the left) and find the static IP address or a hostname in the appropriate section. To the right of the IP address or name of the dynamic DNS host, you can click Change and select the desired profile. After that click Save.
7.5. How to make different filters for different users of the same computer
To create different filters for different local users you need two or more filtering profiles (for example, 'Children' and 'Parents').
Application of such settings is possible only with the use of SafeDNS Agent. To set it up you need to have two or more local user accounts created on the computer.
In SafeDNS Agent go to Settings -> Profiles -> Local users, select the user and the corresponding filtering profile and tick the box 'Bind local users to profiles'.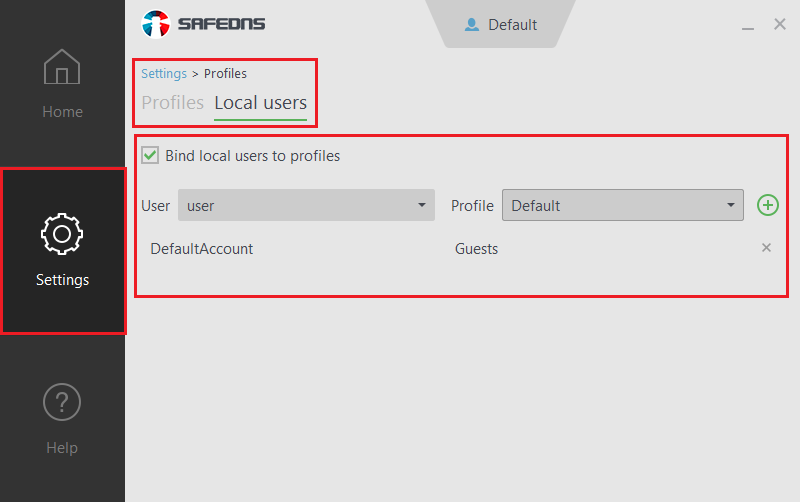 The corresponding profile is used when the user logs into the system.