4.1. How to block access to specific domains
4.2. How to block all subdomains for main domains
4.3. How to allow access to the specific domain from a blocked category
4.4. How to allow access only to websites in your whitelist (Whitelist-only mode)
4.5. Named Black / white lists
4.1. How to block access to specific domains
To block certain sites, go to Dashboard -> Domains tab -> Blacklist section, enter the domain you want to block and click Add button. To block a site, its domain should be entered without 'www' (for example, google.com). In this case, the whole domain will be blocked, including its subdomains. If you want to block only a particular subdomain (for example, maps.google.com), you just need to add this subdomain to your blacklist. In this case, the remaining subdomains of the domain google.com will be available.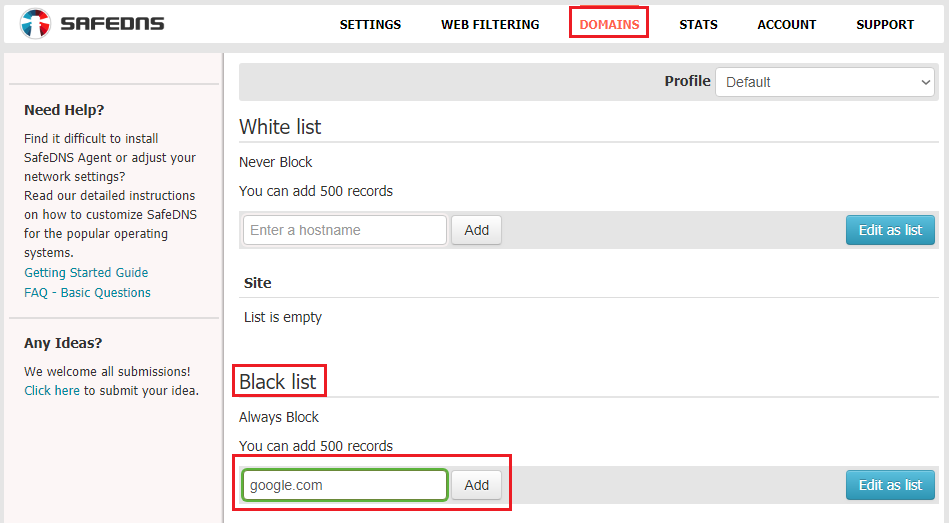 Once the domain is added, it will be shown in the list below. These changes will be applied approximately in 3-5 minutes and the domain will be blocked.
4.2. How to block all subdomains for main domains
To block all subdomains of a domain, you should block the primary domain. For example, if you need to block maps.google.com, docs.google.com, etc., you should add the root domain google.com to your blacklist.
4.3. How to allow access to the specific domain from a blocked category
To access a domain from a blocked category you have to add this domain to your whitelist. For example, if you need to open access to chat.com but block all other messengers, block the category Chat & Messengers and add chat.com domain to your whitelist.
To unblock a certain site from a restricted category, go to Dashboard -> Domains tab, find the White list section and enter the website address you want to allow.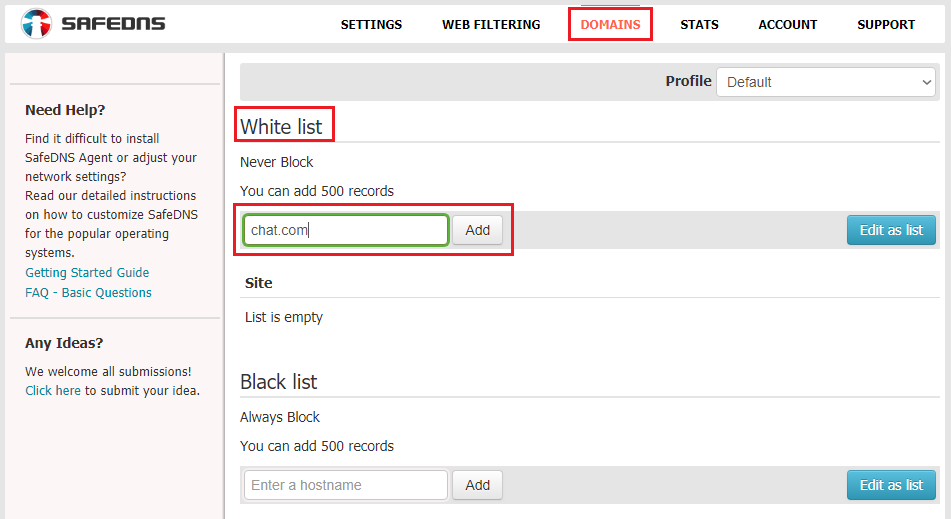 4.4. How to allow access only to websites in your whitelist (Whitelist-only mode)
To allow access only to whitelisted sites go to Dashboard -> Web filtering. Scroll down to the Additional settings section, tick the Use the White List only checkbox and Save the settings.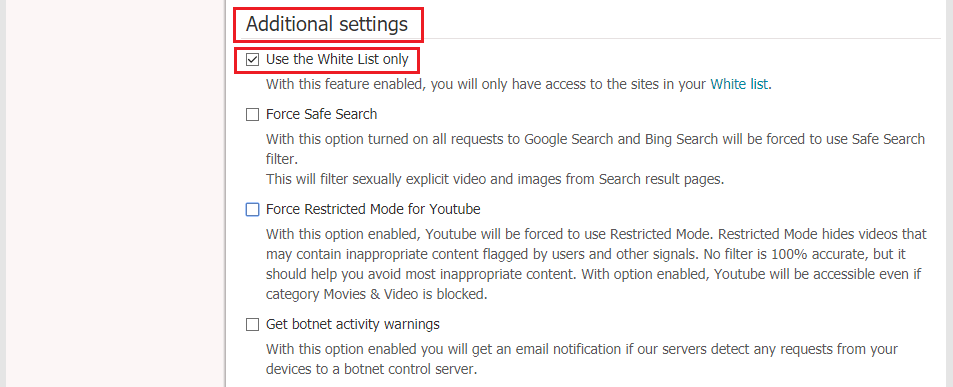 4.5. Named Black / white lists
Named Lists is a convenient feature for the 'Education', 'Hotspot', 'Office' and 'Enterprise' billing plans. It is designed to be installed on different filtering policies (profiles) at the same time. Now you can edit one named list and then apply it to any of your filtering policies. Named lists will also increase the limit for black and white lists according to your billing plan. You also can manage lists of allowed or blocked hosts and domains for all of your profiles or groups of profiles via this convenient feature.
Click the Settings tab and choose Named Lists in the menu: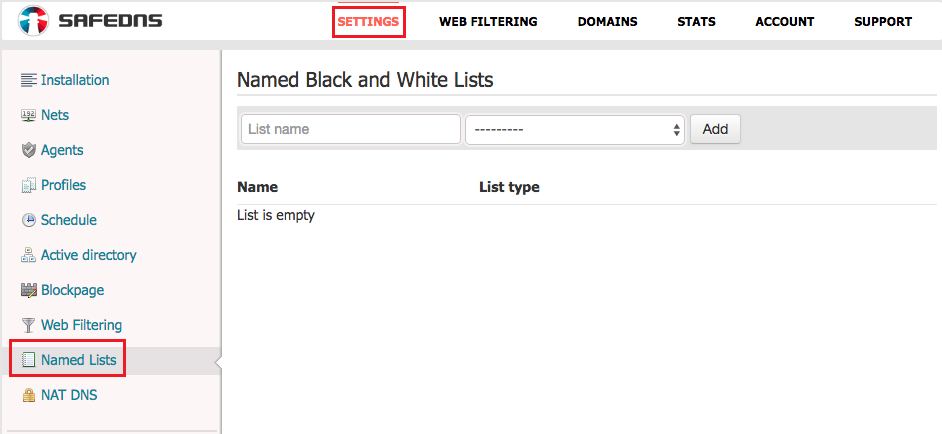 Then enter the most convenient name for the list and choose an appropriate action: Always allow (for the White list) or Always block (for the Black list).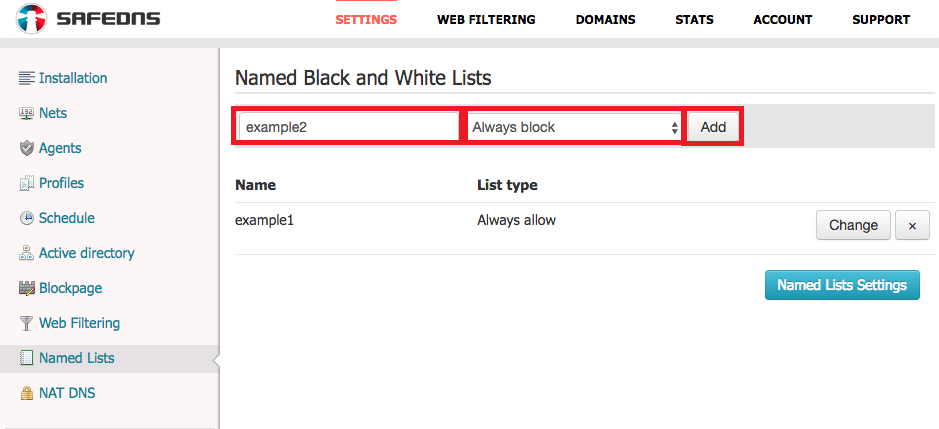 Use the Named lists settings button to select profiles to which the named lists will be applied: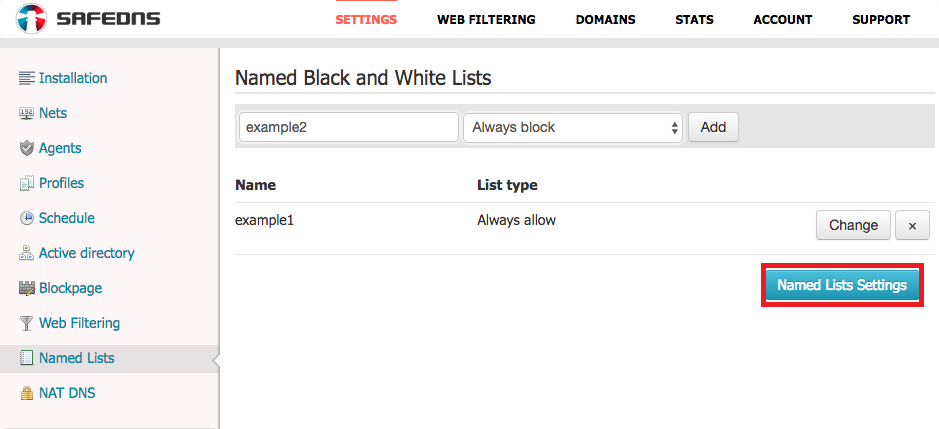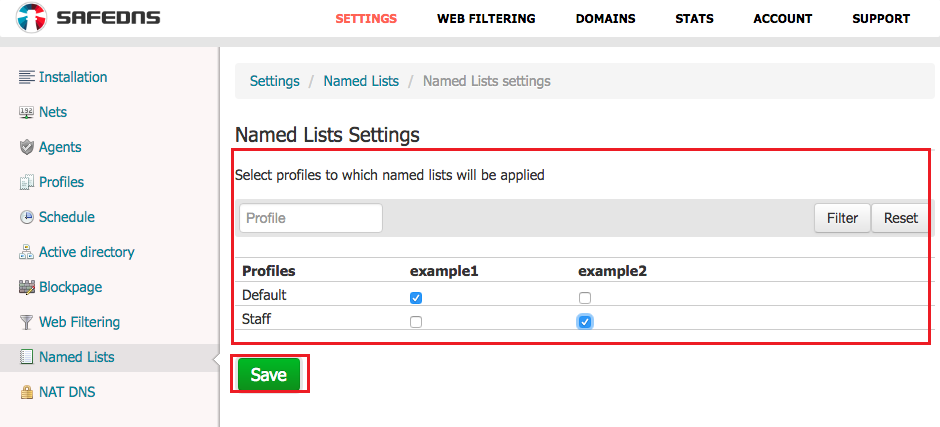 Save the settings and go to the Domains tab. Choose a filtering profile for which the Named list is active, put hosts and domains in the appropriate field. Alternatively, you can press Edit as list button to edit a list of records for the selected named list.