16.3. Linux (major distributions)
16.6. Clearing your cache in Google Chrome
16.7. Clearing your cache in Opera
16.8. Clearing your cache in Microsoft Edge and Internet Explorer
16.9. Clearing your cache in Safari
16.10. Clearing your cache in Mozilla Firefox
16.1. Windows
Clear DNS cache via the command line:
ipconfig/flushdns

16.2. OS X
In the terminal mode, you need to be an administrator to execute a command corresponding to your system version:
• 10.4 TIGER:
lookupd -flushcache
• 10.5 and 10.6 LEOPARD:
dscacheutil -flushcache
• 10.7 and 10.8 Lion:
sudo killall -HUP mDNSResponder
10.9 and 10.10.4 Yosemite:
dscacheutil -flushcache;
sudo killall -HUP mDNSResponder
10.10 Yosemite (not a 10.10.4):
sudo discoveryutil mdnsflushcache;
sudo discoveryutil udnsflushcaches;say flushed
16.3. Linux (major distributions)
Open a terminal and run the following command:
sudo restart /etc/init.d/nscd
or
sudo restart /etc/init.d/nscd
16.4. Debian
service nscd restart

16.5. Ubuntu Linux
Open a terminal and run the following command:
sudo service network-manager restart 
16.6. Clearing your cache in Google Chrome
Go to the three-dot menu at the upper-right of Chrome and select Settings -> Show advanced settings -> Clear browsing data (or type 'chrome://settings/clearBrowserData' without the quotation marks in the omnibar). This will take you directly to the dialog box and delete not only your browsing history, but also your download history (it won't delete actually the downloaded files), all your cookies, cached images and files (which help load pages faster when you revisit), saved passwords and more. Moreover, you can delete only the data from the last hour, day, week, month, or all of it up to 'the beginning of time'.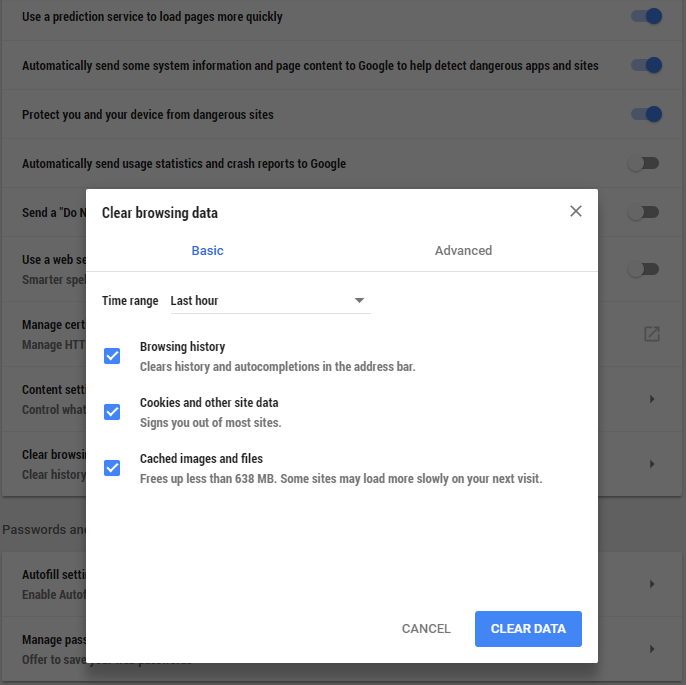 Unfortunately, Google Chrome has no option of not collecting your browsing history.
What's more, if you have a Google account and are signed into it with Chrome, your history is likely to be synched with Google My Activity. Even though it should be secured to your Google account (use a password manager and a two-factor authentication for the best protection), if you truly wish to get rid of the history, select the three-dot menu at the top -> Activity Controls to turn off the inclusion of Chrome activity (from desktops and handhelds), as well as delete any activity synched with the service.
16.7. Clearing your cache in Opera
In the main menu in Opera, go to Settings -> Privacy & Security. You'll see the Clear browsing data button that offers almost identical settings as Chrome, right down to the 'beginning of time' option. (You can also type 'opera://settings/clearBrowserData' into the address bar.) It is similar to Chrome due to the similar platform. Opera offers a little extra to those who want to surf the web safely. However, a built-in VPN option, a courtesy of SurfEasy, is found in the Privacy & Security settings.
16.8. Clearing your cache in Microsoft Edge and Internet Explorer
Go to the three-dot menu in Microsoft Edge and select settings; in the fly-out menu click the Choose what to clear button. Get rid of browsing and download history, cookies, cached data, stored form data, and stored passwords; click Show more if you want to delete things like sites that are allowed to show pop-ups.
You cannot delete just one chunk of data from a time period like a day or week, but there is the option to Always clear this [data] when I close the browser. That ensures you have no browser history stored, as long as you close the browser regularly.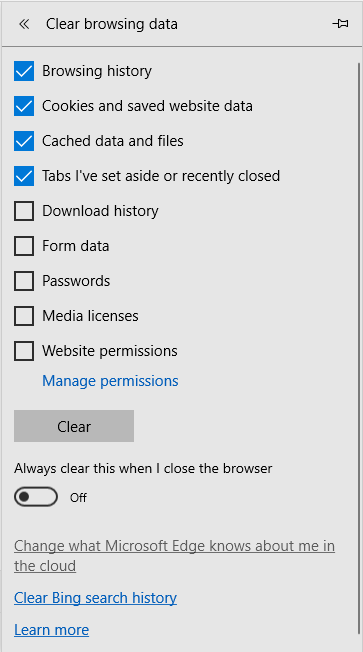 Like Google, Microsoft keeps some of your history online. Click Change what Microsoft Edge knows about me in the cloud to visit a page for your Microsoft account where you can delete that synched browsing history. You can also delete search history on Bing.com, stored location data showing where you've logged in, and stuff you've stored in Cortana notebook.
Still using Internet Explorer (IE)? You're not alone. To wipe the history in IE11 and 10, go to the Gear icon at the upper left and select Internet Options. On the General tab, you can tick a box next to Delete browsing history on exit or click the Delete button to instantly get rid of history, passwords, cookies, cached data (called 'Temporary Internet files and website files'), and more. If you instead click Settings, you go to the History tab and ensure your history is only collected for a specific number of days, automatically deleting anything older.
You have an option to get rid of your browsing history using the Favorites Menu. Click the star at the top-right -> History tab. There, you can see websites you visited on specific dates (Today, Last Week, 3 Weeks Ago, etc.) Right-click to delete everything from a specific time period, or click to view and delete specific websites. If you're using an older version of IE, there are online instructions for deleting the history.
16.9. Clearing your cache in Safari
On MacOS, Safari rules. Clearing your website visit history is simple: click Clear History in the main menu. Then in the pop-up, pick a time frame for how far back you want to erase.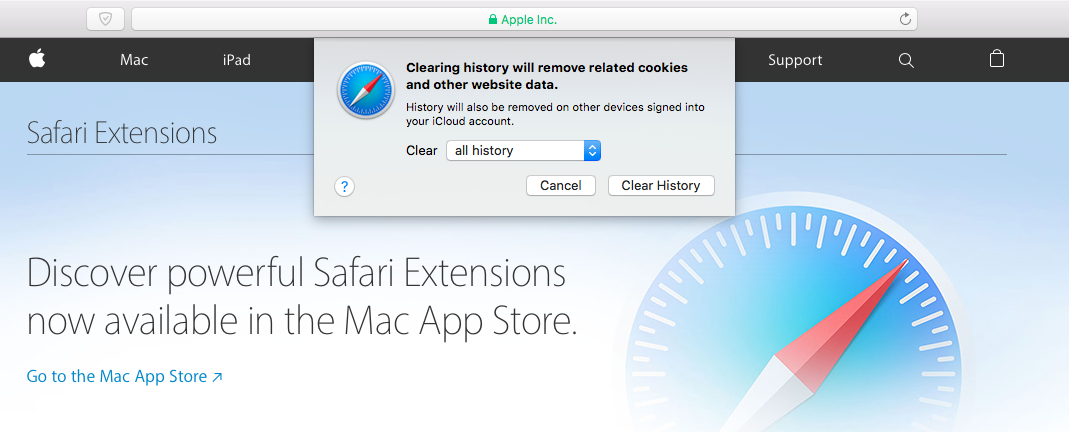 You can instead click History -> Show History to get a pop-up displaying every site you have visited, then take out sites individually, without losing the cookies and cache. You can zap cookies by going into Preferences -> Privacy; delete your cache by going to the Develop menu and picking Empty Caches. If you have no Develop menu in Safari, go to Preferences -> Advanced and tick Show Develop Menu in the Menu Bar at the bottom.
16.10. Clearing your cache in Mozilla Firefox
The latest version of Firefox uses sidebars for accessing preferences, much like Microsoft Edge. Access them at the hamburger menu (at upper right) and you can go right to History. It'll show all your visited sites and the Clear Recent History option (or hit Ctrl+Shift+Del for the same effect). If you select Options in that sidebar, you can go to preferences to either remember history, never remember, or do some custom settings, such as always go into private browsing mode, or never store history or cookies, or to clear the history when closing Firefox.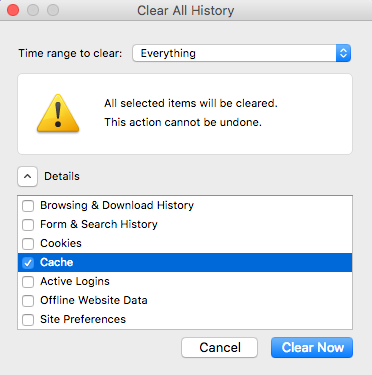 Check the Sync tab while you're there – if you are signed in with a Mozilla Firefox account – your history (as well as bookmarks, tabs, passwords, and preferences) may be synced with your other PCs and devices using Firefox, even on smartphones.